I found these next two old photos on imagineeringdisney.com, which is an awesome blog with photos and articles about Disney's history.  They cover a lot of behind the scenes details such as this article about the Hitchhiking Ghosts effect in the Haunted Mansion.  As one of my favorite rides at Magic Kingdom, I was psyched when I found these photos.  Here's the first Window To The Past, showing construction of the Rivers of America during 1969-1970 with the Riverboat Dock and the Haunted Mansion, mixed with October 2015:
The best part of these photos it that the river is still empty and actually has 2 people walking on the bottom!  There was a closer photo available centered on the haunted mansion, so let's look at that one too:
Click through to view the image larger, as well as a full-size version to see more details.
While editing this one I realized I could line up specific stones in the wall on the right.  Not too surprising, it is a stone wall after all so it's not likely they would have replaced it, but why was it not lining up correctly on the top?  Upon closer inspection of the stones we can see that at some point in the past Disney added more layers to the wall.  Some of the former top layer are still there, but just have newer stones on top of them: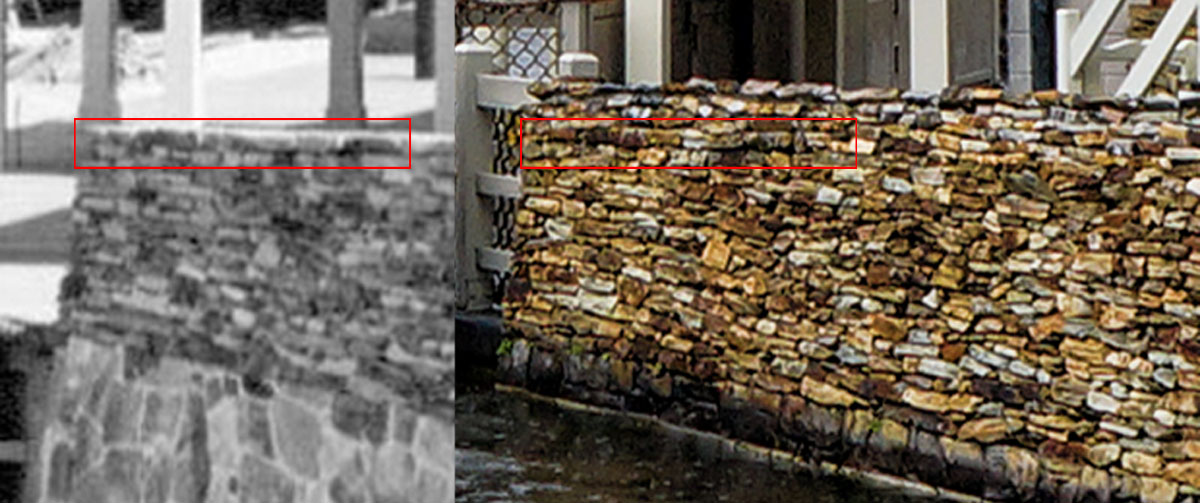 This is when I noticed that the top layers of the wall are even a lighter color since they have not been there as long.  We also see that the railing on the dock is different and was at some point replaced with a taller railing.  Of course the most obvious difference is the river is now filled with water and has a 105ft long riverboat floating in it.
Related Posts:
Windows To Disney's Past – Part 1: Big Thunder Mountain Railroad
Windows To Disney's Past – Part 2: Haunted Mansion and Riverboat Dock
Windows To Disney's Past – Part 3: Liberty Square Construction
Windows To Disney's Past – Part 4: Cinderella's Castle Construction
Windows To Disney's Past – Part 5: Can't Always Get There